CALL TO ACTION!
---
HB 5 – the Texas Jobs & Security Act is expected to be on the House floor this week.
Opponents of the bill are putting an increasing amount of pressure on legislators to vote against the bill. Legislators need to hear from our industry urging them to support the bill.
We've put together the following toolkit to make it easy for you and employees at your company to express support for HB 5 so we can continue to attract new industry investment to Texas.
For a one-pager on the bill click HERE.
For a "Fact vs. Fiction" one-pager countering the opposition click HERE.
WAYS TO EXPRESS YOUR SUPPORT FOR HB 5
E-MAIL:
Below is a sample letter you can send to your Representative.
I am writing to you today to express my support for House Bill 5, the Texas Jobs and Security Act, introduced by Rep. Todd Hunter.
I have seen how our industry investments help our community by creating quality jobs, stimulating the local economy through increased tax-base, housing starts, infrastructure, small business growth, and added resources for our local schools.
HB 5 sends a strong message about the importance of industry investment to our state's economy.
HB 5 will help enhance our supply chain to promote economic independence and national security, attract jobs and investments to our local communities and create future tax revenue for our schools.
Texas has been a leader in securing large capital-intensive investments, but we risk falling behind. Other states and countries are already offering their own temporary tax discounts and incentives to attract investment. Over the last year, Texas lost several multi-billion-dollar deals, including Rivian to Georgia, Intel to Ohio, and Micron to New York.
Texas stands to lose more jobs, more investments, more tax-base and more growth if we don't restock our economic development toolbox with a new economic development incentive this legislative session.
Please support our Texas economy by voting "yes" on HB 5.
---
Click HERE to find and email your Representative.
---
SOCIAL MEDIA:
Follow TCC accounts to like and share posts: 
Twitter: @texaschemistry
LinkedIn: Texas Chemical Council
Facebook: Texas Chemical Council
---
Below are graphics and sample messages that you or your social media team can use.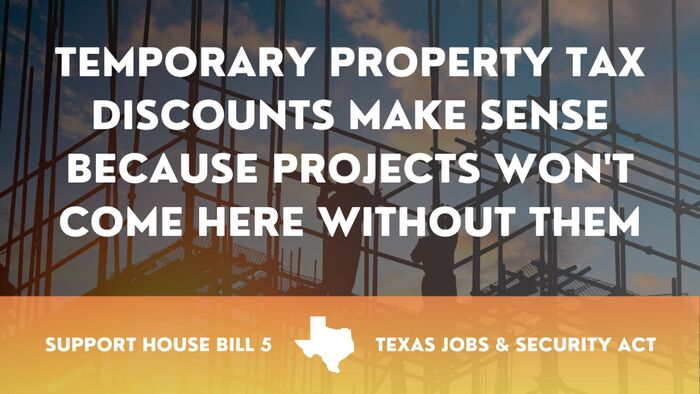 1 – For Texas to remain a national economic leader, we must use tools that other states and countries are using to attract businesses to our state. HB 5, the Texas Jobs & Security Act, would give our local communities a powerful economic tool to attract jobs and investments.
2 – Texas has been the #1 place to do business for 18 years in a row! We need HB 5 to stay on top! Thanks @toddhunter and @DadePhelan for your leadership. #txlege
3 – Texas is the #1 state in the nation for job creation, but that could change if the #txlege doesn't pass HB 5, which would ensure Texas has the same economic development tools to attract projects and businesses that other states are using.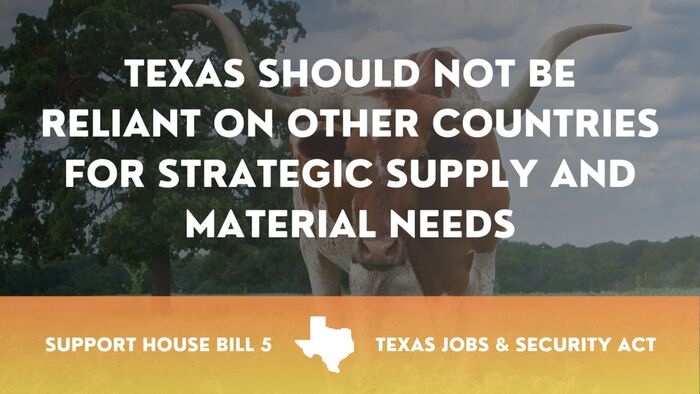 1 – 84% of Texans agree that we are too reliant on other nations for the products we need. HB 5, the Texas Jobs & Security Act, would decrease this reliance and further establish Texas as both a national and global leader in manufacturing.
2 – HB 5, @toddhunters Texas Jobs & Security Act will help attract major manufacturing projects and reshore our supply chain. #txlege
3 – It is clear that Texas and the United States cannot and should not be too reliant on other countries for our economic and strategic needs. We need to pass HB 5 to help attract manufacturing projects to Texas to make the products Texans and Americans need.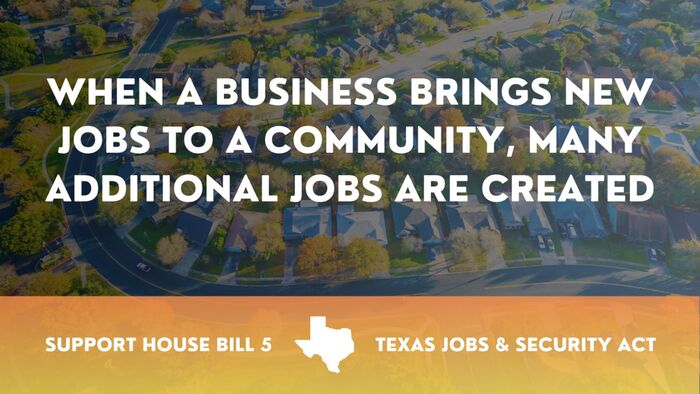 1 – HB 5, the Texas Jobs & Security Act, creates not only temporary jobs from when businesses locate to or expand within our state, but also long-term jobs in our communities.
2 – Major manufacturing projects act as a magnet for service providers – that means more jobs! Every manufacturing job creates 5 additional jobs. We need the modern economic development program in HB 5 to keep jobs coming to Texas.
3 – Tens of thousands of Texas jobs have been created by companies and projects that have moved to or expanded operations in our state because of economic development tools. The #txlege should pass HB 5 to ensure Texas can continue to grow jobs and build upon our economic successes.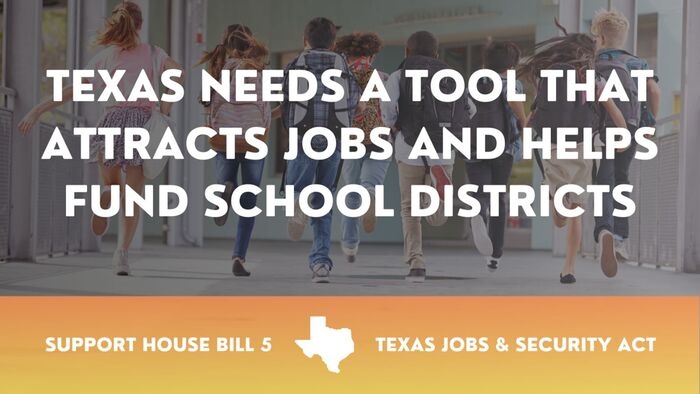 1 – HB 5, the Texas Jobs & Security Act, will help provide school districts and local communities with a tool to attract jobs, generate tax revenue, and help fund education.
2 – Industrial investments in school districts create new tax revenue on day one that schools can use to better serve their students and faculty. We need HB 5 to land these big projects and help Texas schools.
3 – HB 5 will create jobs and economic prosperity in Texas communities by providing a tool to attract projects, and it provides school districts with a future tax revenue stream to help pay for teachers' salaries and school building expansions and renovations. #txlege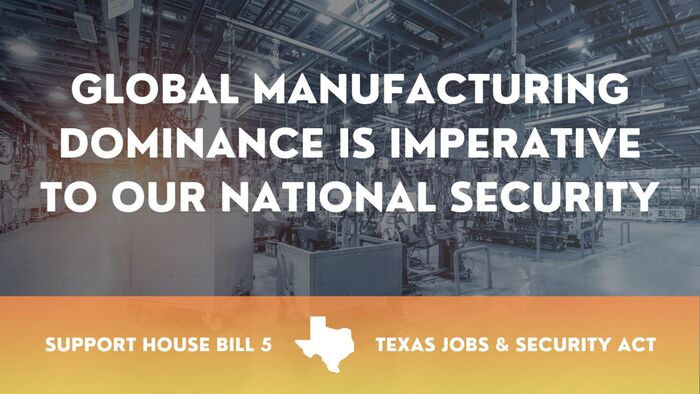 1 – HB 5, the Texas Jobs & Security Act, will help attract businesses, create good paying jobs and cement the Lone Star State's role in providing national, supply, and energy security.
2 – HB 5, The Texas Jobs & Security Act, is the solution to strengthening our supply chain, bolstering our national security and ensuring electricity grid reliability.
3 – National security is rooted in economic and energy security. HB 5 is a vital tool needed to ensure Texas and the U.S. can reclaim global manufacturing dominance and remain strong, safe, and secure. #txlege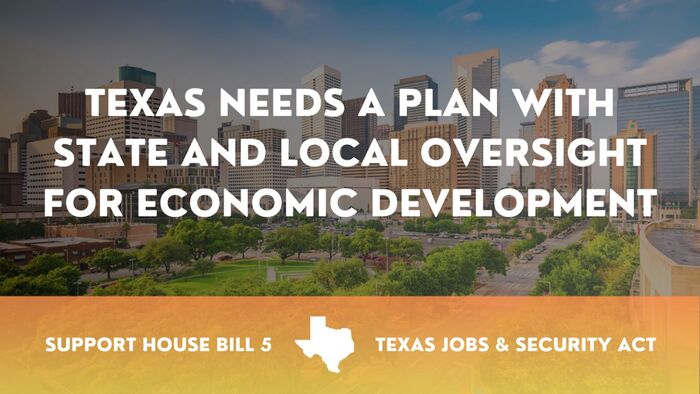 1 – HB 5, the Texas Jobs & Security Act, will create a new, modern, transparent and accountable economic development program. Applications under the program are reviewed and approved by the Texas Comptroller before moving to local school boards for consideration and final approval.
2 – The Texas Jobs & Security Act (HB 5) includes provisions to protect the interests of the state and schools. Strong accountability provisions require a company to return any tax savings should the project not meet the terms of the agreement such as mandatory job creation requirements.
3 – The economic development tools created by HB 5 are subject to strict state and local government oversight and reviews, with multiple levels of approval required. #txlege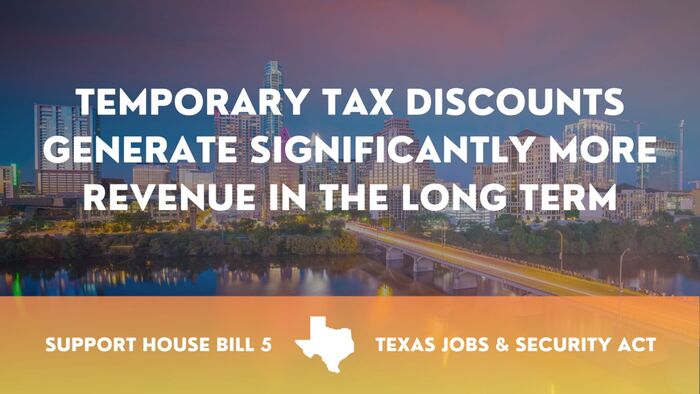 1 – HB 5, the Texas Jobs & Security Act, will help attract businesses to our state, create good paying jobs, and generate significant long-term tax revenue for school districts to fund education.
2 – Under HB 5, projects must be clear "wins" for Texas as the comptroller must find that the proj­ect will generate more tax dollars than the amount that will be discounted during the incentive period. That's smart policy.
3 – As Texas' economy continues to expand, the jobs and benefits created by HB 5's economic development tools could generate significantly more revenue for school districts and local communities in the long-term. #txlege
Sent by EHCMA on behalf of: