January 24, 2023
Severe Weather Potential: Residents Urged to Be Weather Aware Today
A cold front passing through the area today brings the potential for severe weather to nearly all of Southeast Texas.
The National Weather Service (NWS) is calling for thunderstorms bringing widespread rainfall of 1" – 3" with isolated areas receiving as much as 4 inches. Strong, damaging winds, hail, and a slight chance of isolated tornadoes are also possible. Residents should be prepared for severe weather conditions through 6:00 p.m.
The biggest threat will be street flooding in areas that receive the most rainfall. Motorists should be extremely careful and remember never to attempt to drive through high water areas. Turn Around, Don't Drown!
Ponding on roadways can also increase the risk of hydroplaning. Slow down and leave a little extra room between you and vehicles ahead.
NWS has issued a Wind Advisory until 6:00 p.m. and residents should expect additional weather watches and warnings throughout the day. Monitor local media, social media, and other trustworthy news sources for weather information. Be prepared to act immediately if a warning is issued in your area.
For more information on how to prepare and stay safe during a severe weather event, visit ReadyHarris.org.
Stay informed by following HCOHSEM updates at ReadyHarris.org, on social media, and by signing up for Ready Harris Alerts or ReadyHarris Accessible Alerts.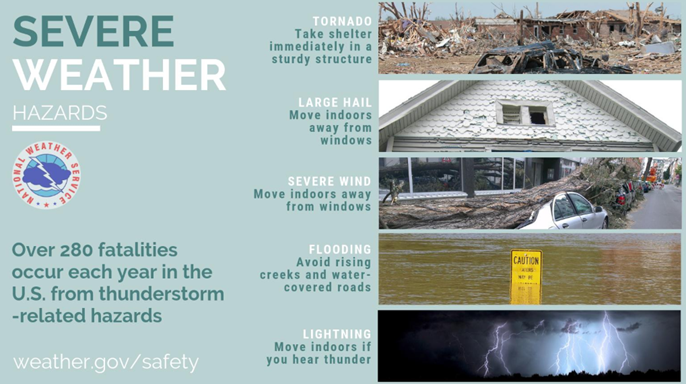 Potencial de clima severo: Se insta a los residentes a ser conscientes del clima hoy
Un frente frío que atraviesa el área hoy trae la posibilidad de un clima severo a casi todo el sureste de Texas.
El Servicio Meteorológico Nacional (NWS por su siglas en ingles) está llamando a tormentas eléctricas que traerán lluvias generalizadas de 1 a 3 pulgadas con áreas aisladas que recibirán hasta 4 pulgadas. También son posibles vientos fuertes y dañinos, granizo y una pequeña posibilidad de tornados aislados. Los residentes deben estar preparados para condiciones climáticas severas hasta las 6:00 p. m.
La mayor amenaza será la inundación de las calles en las áreas que reciben la mayor cantidad de lluvia. Los automovilistas deben tener mucho cuidado y recordar que nunca deben intentar conducir a través de áreas con mucha agua. ¡Date la vuelta, no se ahogue!
Los estanques en las carreteras también pueden aumentar el riesgo de hidroplaneo. Disminuya la velocidad y deje un poco más de espacio entre usted y los vehículos de adelante.
NWS ha emitido un aviso de viento hasta las 6:00 p.m. y los residentes deben esperar alertas y avisos meteorológicos adicionales durante todo el día. Monitoree los medios locales, las redes sociales y otras fuentes de noticias confiables para obtener información meteorológica. Esté preparado para actuar de inmediato si se emite una advertencia en su área.
Para obtener más información sobre cómo prepararse y mantenerse seguro durante un evento climático severo, visite ReadyHarris.org.
Manténgase informado siguiendo las actualizaciones de HCOHSEM en ReadyHarris.org, en las redes sociales y registrándose para recibir Alertas Ready Harris o Alertas Accesibles de ReadyHarris.
MESSAGE_ID# 3058983082625920
Sent by Victoria Clifton, EHCMA, on behalf of: